"Roadside Roulette," Mary Higgins Clark Mystery Magazine, Summer 1999


WINNER: 1998 Mary Higgins Clark Mystery/Suspense Short Story Contest
Jeff is so desperate to hitch a ride north, he doesn't care who picks him up. But he should.
The cows grazing behind barbed-wire fence showed little interest in the boy shuffling by on the shoulder of the state highway. Jeff Westfall had no eyes for them either, or for the fields of wildflowers fluttering in the spring breeze, or the Green Mountains thrusting against the distant horizon.
Folks traveled miles out of their way, added hours to their trip sometimes, to meander through the heart of Vermont on Route 100. In the late afternoon stillness, Jeff could pick up the thrum of a car a mile away, but none stopped or even slowed for his cocked thumb and eager backwards trot.
"Lucky Strike," Woman's World magazine, August 21, 2001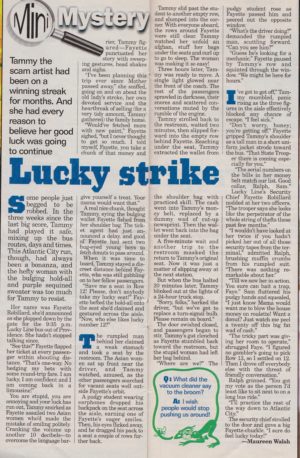 The woman with the big mouth had an even bigger bankroll. Was it worth the gamble for a thief on a roll?
Some people just begged to be robbed. In the three weeks since the last big score, Tammy had played it safe mixing up the bus routes, days and times. This Atlantic City run, though, had always been a bonanza, and the hefty woman with the bulging hold-all and purple sequined sweater was too much for Tammy to resist.
Her name was Fayette Robillard, she'd announced as she plopped down by the gate for the 9:35 PM Lucky Line bus out of Providence. She hadn't stopped talking since.
"See this?" Fayette flapped her ticket at every passenger within shouting distance. "That's one-way. No hedging my bets with some round-trip fare. I am lucky, I am confident, and I am coming back in a limousine!"
"The Prisoner of Butternut Lane," Windchill: Crime Stories by New England Writers 2006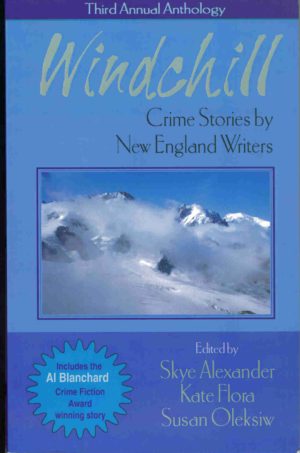 Since the death of her son five years earlier, Cecelia has depended on her nephew for virtually all the necessities of life. Now Nolan  is planning to break free—and Celia is determined to stop him:
 Celia drew back from the window as Nolan lumbered up the walk of the old triple-decker on Butternut Lane, a jug of spring water and grocery bag in each arm. She waited for him to mount the six steps to the porch, jab with his pinkie at the bell, and finally let the right half of his burden slide to the floor. As soon as his key rasped in the lock, Celia yanked open the door. The grocery bag tipped over and Nolan, still gripping the key, stumbled forward onto the eggs and the loaf of bread….
"Nuisance Call," Still Waters: Crime Stories by New England Writers 2008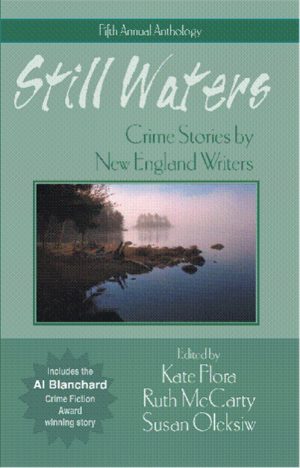 When a comment by Officer Beth Frobish lands her and partner Lon DiAngelo with a week's duty answering petty complaints, she never figures one nuisance call will turn into a major coup for two of Plumdale's finest.
Somewhere in Plumdale a serial killer could be planning his next strike. A master thief might be in the midst of a major heist. Surely some Boston drug lord had sent a minion or two to infiltrate their little town. And for dead certain the Markle sisters were working the aisles of the new MegaMed, slipping anything smaller than a bedpan into their voluminous purses.
So why, fumed Officer Beth Frobish, were she and her partner wasting their time on these nuisance calls? Didn't these people know there was real police work to be done?
It was just that comment, uttered in the hearing of her captain a week earlier, that earned Frobish and Lon DiAngelo a straight week of following up the kinds of calls that usually were handled by the desk officer or spread among the patrols on each shift….
"Double Dare," Deadfall: Crime Stories by New England Writers 2010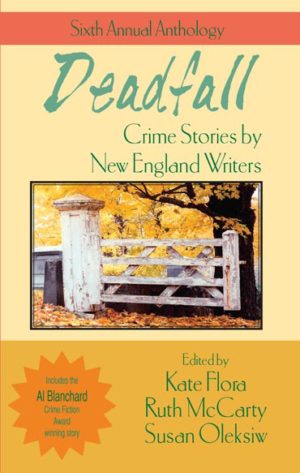 When Bev and Dillon take on the St. Dismas weekly Bingo, the two bored sociopaths gamble on getting away with more than the cash.
"Paula, I need more Pot o' Golds." I smiled shyly at the bookkeeper for St. Dismas's weekly Bingo and handed her the cash from the instant game tickets I'd just sold.
"Sure, Mindy. Just a sec." Paula banded another fifty-dollar packet of ones and tossed it into an open trunk already half-filled with money. She made a note of the serial numbers on a new pack of instant game tickets and passed them to me.
"Feeling lucky, Sarge?" I turned to the police officer sprawled in the folding chair between Paula's desk and the doorway to the tiny office.
 "Nah."
The weekly Bingo night was easy private duty, a plum for the cops with seniority. Dillon figured we'd need a bazooka to get the attention of Sergeant Snooze….
"Double Take," Thin Ice: Crime Stories by New England Writers 2012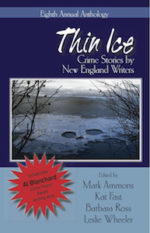 Bev and Dillon are one step ahead of the bail bondsman and hiding out in Vermont. Now another thief is threatening their refuge at The Green Mountain Tyrolean Inn. Where do their loyalties lie?
We were about five seconds away from being arrested and all I could think about was how sexy Dillon looked in lederhosen. Not many men, not Americans anyway, could carry off those leather shorts with the embroidered suspenders and fancy strap across the chest, not to mention the knee socks, but my guy was one of them.
I was pretty stunning myself in a black-and-red dirndl cut low at the bodice and high at the hem with a bit of lace peeping out at each end. Together, me and Dillon had upped the sex appeal of the Green Mountain Tyrolean Inn about 6000 percent. We'd been here a month and made double in tips what we were getting, under the table, from Dillon's mother's second cousin Fred.…
"Double Wedding," Blood Moon: Best New England Crime Stories 2014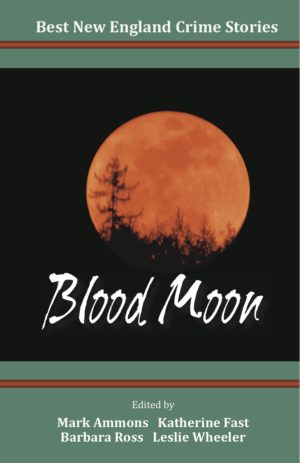 FINALIST 2013 Derringer Awards
Bev and Dillon have promised to love, honor, cherish, and never testify against each other forever, but there's one thing missing to make their wedding perfect—and Bev's obnoxious cousin Evelyn has it.
"The bride's side or the groom's?" The usher looked like he was staring at his own cocked elbow, but I knew he was checking out my cleavage. The low neckline of my sheer silk blouse was deliciously cool for a July wedding in Virginia, where the churches are too historic for air conditioning and the stained glass windows are too valuable to actually open. The electric fans humming in the corners moved just enough air to keep everyone breathing.
I clutched the usher's arm almost as close as he wanted me to and whispered, "Definitely the groom's side. I'm Frankie's first…girlfriend."
He leered like a party-hardy frat boy until he noticed Dillon scowling at him over my shoulder….
"Breaking Point," Spinetingler Magazine, September 7, 2015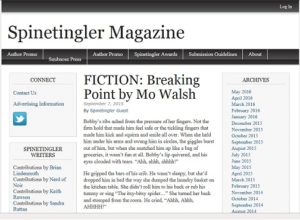 Why would a young mother indulge herself while ignoring her toddler's cries of pain?
Bobby's ribs ached from the pressure of her fingers.  Not the firm hold that made him feel safe or the tickly fingers that made him kick and squirm and smile all over. When she held him under his arms and swung him in circles, the giggles burst out of him, but when she snatched him up like a bag of groceries, it wasn't fun at all. Bobby's lip quivered, and his eyes clouded with tears. "Ahh, ahhh, ahhhhh!"
 He gripped the bars of his crib. He wasn't sleepy, but she'd dropped him in bed the way she dumped the laundry basket on the kitchen table. She didn't roll him to his back or rub his tummy or sing "The itsy-bitsy spider…" She turned her back and stomped from the room. He cried, "Ahhh, Ahhh, AHHHH!"
**"I was so uncomfortable, I almost couldn't finish. And then so glad I did. What a wonderful writer you are to grab my emotions like that." – Jack Getz, Fiction Editor, Spinetingler Magazine.
"The Night Clerk," Flash Bang Mysteries, Winter 2016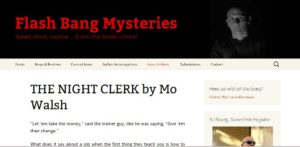 Employee training conflicts with instinct when The Night Clerk is robbed at gunpoint.
"Let 'em take the money," said the trainer guy like he was saying, "Give 'em their change."
 What does it say about a job when the first thing they teach you is how to handle a robbery? And this is not some cozy bank with alarm buttons and dye packs and maybe an armed guard. The Zip Mart has convex mirrors that mostly show harried customers trying to find the baking soda or pet food and snackers deciding between the Ho-Hos and the jumbo Snickers. And the security camera?—just a requirement of the insurance company. You could run a movie marathon of stick-ups at Zip Marts—saw about 100 in 30 minutes during employee training—and how many creeps could you identify? Yeah, zip….